The Living room, just beyond the Sunroom doors, has always been a place for gathering and enjoying art and music. The room features a Steinway "Duo-art Pianola" player piano and originally also had an Estey "Solo Automatic Pipe Organ". It could be operated manually by sitting at the console, or automatically with the use of music rolls made of paper with small holes punched out to reproduce notes. In 1967 Ruth Rawlings Mott decided to donate the organ console to the Sloan Museum and had a cabinet built in its place to display her collection of china.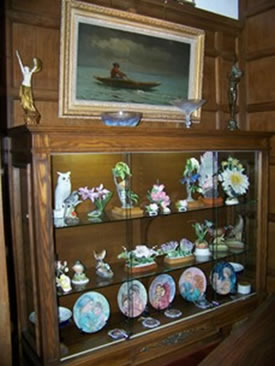 Painting: Approaching Storm (Homeward Bound), 1890,
by Winslow Homer
(American, 1836-1910)
1992.1.28
Displayed in the window directly behind the piano is a statue of a woman standing on a turtle signed "Edgardo Simone – New York – 1929".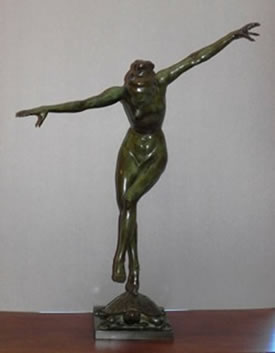 On the piano is an important 18th century Sheffield silver tray once owned by Colonel Charles Stewart,  fourth great-grandfather to Charles Stewart Mott. Colonel Stewart of Donegal County, Ireland was born in 1729, came to America in 1750 and eventually became friends with George Washington. The tray bears the coat of arms, crest, supporters and motto of the Stewart family. The coat of arms is at the center with the crest above depicting a pelican with wings out and feeding her young. The supporters flank the arms and depict a savage with a laurel wreath about his head and holding a club over his right shoulder on the left and a lion to the right. The motto "VIRESCIT VULNERE VIRTUS" translates "Virtue Flourishes from a Wound".