The sunroom, with windows on all three sides of the room, was a casual gathering place for the Mott family – just like a family room today. They often visited with friends and family in this space and even opened Christmas gifts under a tree set up in this room.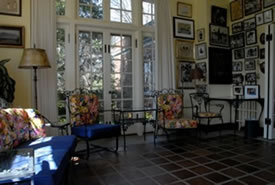 Centered above the doorway leading into the Living Room, is the Mott family crest – as C.S. Mott and Ruth Rawlings Mott were distant cousins, six-times removed, they had a shared family crest in their lineage. To the left of the crest are images of C.S. Mott's parents, and to the right are images of Ruth Mott's parents.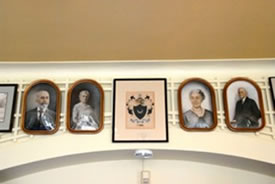 The rest of the room is filled with images they loved including photographs of their pet dogs, western scenes from Arizona and many photos of family and friends.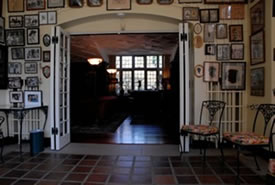 One framed artwork displayed in the Sunroom was originally an advertisement from 1830-1840 for James Turnbull Fine Carriages and Coaches, of New Jersey - the state where C.S. Mott was born and where he eventually ran his own wheel and axle business.