The Mott's Dining Room was a place for the family and their friends to enjoy meals made from the many foods grown and raised on the Applewood Estate farm. C.S. Mott worked with the staff to make sure that meals were comprised of seasonally fresh fruits and vegetables so that waste was kept to an absolute minimum.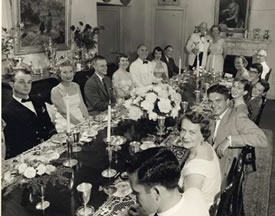 June 3, 1955 on C.S. Mott's 80th Birthday
The Dining Room was lit by candle and firelight, along with soft torchieres in the corners, but did not include a chandelier above the table. The floors are made of a white oak installed in a herringbone pattern and walls feature artwork of family members from earlier generations, including this portrait, hung above the fireplace, of Anna Rogers, third great grandmother to C.S. Mott. This work was painted in 1946 by artist Robert Feke, a year before Anna married James Mott, Jr.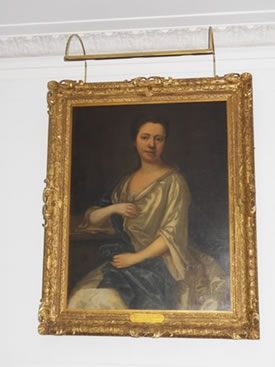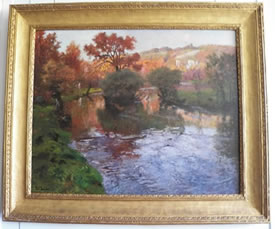 Another painting featured in the Dining Room is this work by artist Fritz Thaulow (b.1847- d.1906) titled "On the Dordogne – Normandy".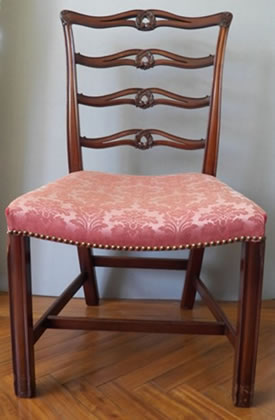 Even the chairs in the Dining Room have a story behind them, as told through this excerpt of C.S. Mott's diary on August 9th, 1935:
"After lunch C.R. [Cousin Ruth, C.S. Mott's pet-name for his wife, Ruth Rawlings Mott] napped and Herbert [Davis] took me to town [Nantucket] and we visited the Antique shop of Louis Clark and found some fine Sheraton dining room chairs 40 years old (2 arm and 6 side) very handsome and priced at half what would have been asked in N.Y. Later we took C.R. over and she liked them. She never was pleased with the Italian antique dining room chairs which we have been using. So we bought these Sheraton chairs and Clark will have Irving and Casson, Boston, make four more to match so we will have set of 12. I & C are among the finest wood workers in U.S.A.-they made the paneling and woodwork for living room and library at Applewood. We will keep our Italian chairs to use when we have more than 12 at table."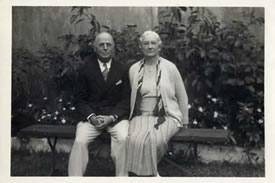 Herbert and Edith Davis, C.S. Mott's sister and brother-in-law, in Nantucket, 1935.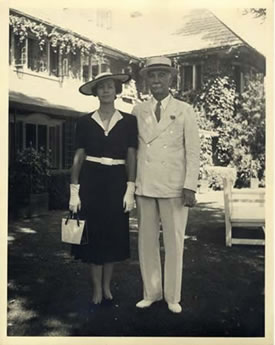 Ruth Rawlings Mott and C.S. Mott, about 1933-1935